Baby Hazel African Safari game
Follow us on Facebook and Youtube: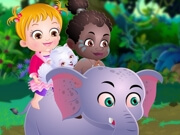 Description: Baby Hazel African Safari
Baby Hazel and her parents, together with their dog Bruno, decided to relax in South Africa. They had a great day getting to know the local nature. And now the night has come, and you need to decide where they will spend the night. Of course, Hazel's parents decided to spend the night in the wild jungle in a tent. After all, when will there be such an opportunity? And then the most important adventures began. After all, our travelers did not know anything about where they were staying. The girl's mom had gone to bed earlier, while Hazel and dad stayed by the fire. But as often happens, the girl played with the dog and went far from the fire. Although dad told her not to go far, it so happened that Hazel got lost, and now she must find the way back to mom and dad's tent. Help her get out of the place where she got and find her parents as quickly as possible.
How to play:
Use the in-game hints to help Baby Hazel find her parents in the dark forest.