Sweet Donut Maker Bakery game
Follow us on Facebook and Youtube: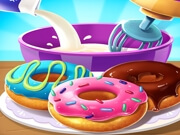 Description: Sweet Donut Maker Bakery
Juicy donuts with tea or juice are very tasty, and I want to take another one. How cool it is when the donut dissolves in your mouth and gives a lot of pleasure! In this game you will learn how easy it is to prepare a donut of any type and shape. In addition, you can choose any donut creams, donut shape, height and decorations for it. Do the dough first. Roll it out and shape it as needed to create a pair of lush and juicy donuts out of it. Then we'll send it to the oven so that we have a donut base ready. Then we take it out and start decorating. First, we use a cream. Choose any decoration options you like. Now you can start decorating with sweets. This can be candy, fruit, or special donut decorations. I think that you will get the perfect donut that you can easily make the same at home with your mom.