Dr Panda Farm game
Follow us on Facebook and Youtube: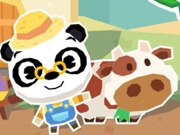 Description: Dr Panda Farm
Welcome to Dr. Panda's farm. In this game you can find out how much more difficult it is to be a farmer. For example, you can grow wheat and bake bread from it, or pick berries and make jam from them. It turns out that being a farmer is not such an easy task, but if you try to do it several times, then everything will go quickly and easily. For starters, Dr. Panda will start growing wheat. The crop must then be taken to the mill. As the flour from the mill is ready, now it will be necessary to start baking bread and rolls. The finished baked goods will be loaded onto the cart by Dr. Panda himself and can be brought to the local market and then sold to customers. A similar process is needed to create berry jam. Harvest, squeeze the juice from the berries, and then cook the jam. Then it remains only to pour it into the jars and close the lid.
How to play:
In this game of Dr. Panda's farm simulator, you need to grow grains, vegetables. Bake bread and jam and then sell them on the market.