Fairytale pizzeria game
Follow us on Facebook and Youtube: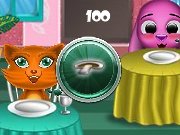 Description: Fairytale pizzeria
The city offers a fabulous pizza for Dolly and her friends. Serve them and make them happy. Cook pizza as quickly as possible, and serve drinks for guests. The sooner you do it, the more money you earn. Look after their orders and serve them.
Controls in this pizzeria simulator game:
when customers sit down at a table, then look at the clouds around them. If this is a pizza with mushrooms and sausage, then click with the mouse on these ingredients on the table. Then drag the pizza with the mouse to oven. When the pizza is ready, it will appear right on the table. Drag it to the client. A little later, customers order juice. Find it in the locker and give the client. Now remains only to get money from the client.
On the following levels more kinds of pizza and food are added. Quickly prepare your orders and get as much money as you need to earn on that level.
Played: 32553. Added: 19-04-2012, 18:40.. Categories:
Simulators