Cindy the barber 2 game
Follow us on Facebook and Youtube: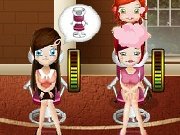 Description: Cindy the barber 2
You are known as the best stylist and haircut master in your city. You simply serve any wish of clients. The game has many levels. On each level you will perform the task and buy a variety of devices to work in the hair salon. Try to serve clients as quickly as possible. Otherwise, they can leave.
How to play:
at the beginning of each level you have a goal. See how much you have to earn to pass the level, and how much you need to become a pro. When a client comes to you, you must first sit her into a chair. In the cloud near the client you will see what she asks you to do. If she needs a haircut, then choose scissors on a table with instruments and click on the girl.
Like the game? Try and play the first version of the game Cindy and her beauty salon.
Played: 41076. Added: 20-04-2012, 20:03.. Categories:
Simulators