Paradise zoo game
Follow us on Facebook and Youtube: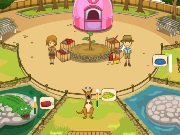 Description: Paradise zoo
You're going to become a zoo keeper. This zoo is a home to a koala, kangaroo, crocodile, cat and other animals. Watch it was nice and comfortable for them to live in a zoo. See the animals and perform any of their whims. For a good care of the animals you will receive the money at the end of each day.
How to play: To start you need to release the animal from the cage. Click the mouse on the icon with the doors. Then watch what animals are thinking now. If it is an apple, then find it on the bottom of the panel and click it with the mouse, then click on the animal. If the residents of the zoo are sick, then drag them to the pharmacy.
If you want to take a course, click on the Tutorial button at the beginning of the game.
Played: 33912. Added: 13-01-2014, 13:44.
Play other games from this developer:
GirlsW.com
. Categories:
Simulators