Cindy the barber game
Follow us on Facebook and Youtube: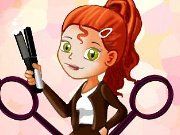 Description: Cindy the barber
Cindy is now the owner of a beauty salon. She is doing everything on her own, but she often does not have time, and she needs assistants. To cope with it, she called you.
How to play:
Help Cindy to run the beauty salon. See what customers want and do it with the mouse.
If she wants to wash her hair, then put her at the sink for washing the head. Now click on her and Cindy will wash the client's head. To perform some other services use the tools on the table. Click with the mouse on them to take. Then drag the girl into another chair and click on the girl to make Cindy began to cut and dye the girl's hair. Now you know everything and ready to work. Get Started!
By the way, the second version of the simulator game about
Cindy and beauty salon 2
is already released.