Burger-bar game
Follow us on Facebook and Youtube: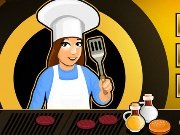 Description: Burger-bar
And now you're going to work in a burger bar, which serves the best hamburgers.
How to Play:
Complete a sales plan to get your income from the satisfied customers. First, remember a couple of recipes. Choose them correctly and click on the Create button. Watch for the products. If they are running out, then order them using the telephone. See what your customers are ordering and serve itt as quickly as possible. If you do something wrong, then start again by clicking on the cross. If a customer wants a special burger, then click on the book to look at the recipe.
Played: 34605. Added: 7-05-2012, 04:04.. Categories:
Simulators