Ski resort manager game
Follow us on Facebook and Youtube: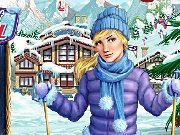 Description: Ski resort manager
The most popular amusement in winter is, of course, a ski resort. There is everything that is associated with winter and snow. Ski, sled, snowmobile, sitting by the fireplace and warm punch, all these things and more other are waiting for tourists at the resort. Julia had inherited from her grandmother a small ski resort, but she needs to do a lot of work to make this resort a truly popular among tourists. You need to build almost everything from the very beginning, so Julia just needs your help. In this ski resort manager game you will be able to show your ability to run your own business. Follow the instructions of Julia's grandmother and you will succeed.
Played: 47520. Added: 22-12-2011, 16:00.. Categories:
Simulators