Cat postman game
Follow us on Facebook and Youtube: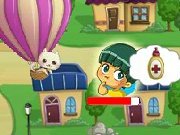 Description: Cat postman
In this city, kids love the weekends and in the morning they like to stay at home, or just sleep. But if they want to take something from school or buy at the store, they ask a cat on a hot air balloon.
How to play:
Look at the cloud near the children and think in which of the buildings the subject may be. Then click on a building and the cat will float in a balloon to the building. After entering the building find a subject, click on it so that it fell into the basket. Then click "Exit" and click on the house where it is necessary to deliver the item.
With each level the conditions are getting harder and harder. You will have new opportunities but also less and less time and money, while you need to earn more.
Played: 34713. Added: 24-05-2012, 10:52.. Categories:
Simulators