Ellie: Maskne Face Care game
Follow us on Facebook and Youtube: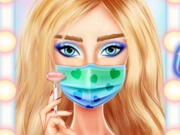 Description: Ellie: Maskne Face Care
Today, due to the pandemic, it is necessary to wear a mask for a very long time. This is bad for our skin. The skin loves fresh air and sun, but if you wear a mask for a long time, then a mask appears - acne from wearing a mask. It is very unpleasant - removing the mask to see that the skin has become red and with acne. But do not worry and get upset if you know how to take good care of your skin. In this game we will learn how to help the skin regain its beautiful and healthy appearance. In this game, you and Ellie will try to take care of the skin of the face. She has been wearing the mask every day for a whole year and therefore knows how to restore her skin to a healthy look. First, we will apply a cleansing oil to the skin, followed by a moisturizer. Then apply a face mask. So the skin of the face will receive the maximum effect of cleansing and recover after wearing the mask. And at the end of this whole process, we will apply a new morning makeup for the beautiful Ellie.