Thrill Rush 3 game
Follow us on Facebook and Youtube: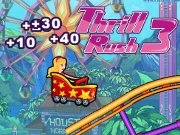 Description: Thrill Rush 3
Do you love rides? This young blonde and her friends went to a recreation Park. And how did miss roller coasters? But something happened that nobody expected. A roller coaster broke down! The carriage began to disconnect from each other, and the rails fall! Wow! Let's quickly help the girl to get to the end and get away with this attraction!
How to play:
in the Uphill Rush 3 game you have to help the little girl not to fall into the abyss, where you have to bend down and collect the money. I think it's very funny and the game has become even better on this site.
Controls: use the UP arrow key to jump, and press DOWN to Crouch and wait until the truck will pass a dangerous place.