Blow it up 3 game
Follow us on Facebook and Youtube: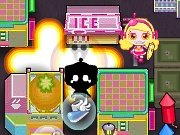 Description: Blow it up 3
Have a lot of fun placing bombs and destroying enemies. Put a bomb and quickly run away. Let the enemies blow up! You can play for one of four characters. You can set any number of players and difficulty level. And the most importantly, you can play the game together with your friend!
How to play:
you have four options of the game:
- Kill all enemies
- Kill 10 enemies
- Drive 10 enemies or sheep off the map
- Pass through three laps the first
Control the game with arrow keys.
Push the spacebar to set the bomb, or release a jet of water.
Played: 40554. Added: 6-06-2012, 09:47.. Categories:
Action