Beehive defense game
Follow us on Facebook and Youtube: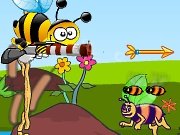 Description: Beehive defense
All the bees flew away for the honey, and meanwhile the bees from another hive decided to steal the honey from your hive. hurry to fight them back. Shoot them and do not let them get closer.
How to play "Beehive defense" game:
you are one against the hordes of bees. Shoot them holding down the space bar. Use the up / down arrow keys to move and aim well.
Played: 36594. Added: 21-04-2012, 16:30.. Categories:
Action
Beehive defense game walkthrough: