Snow Fairy game
Follow us on Facebook and Youtube: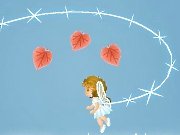 Description: Snow Fairy
Nature is always fascinating, especially when it turns from one season to another. In our funny online game for girls you can watch the transition of nature from autumn to winter. In fact, everything is very simple. Tiny snow fairies fly around the world and turn autumn leaves into snowflakes.
How to play the online game "Snow Fairy":
The game is controlled with the mouse. Hold down the left mouse button circling the falling autumn leaves of the same color to make them become snowflakes. The more leaves you circle, the more points you earn. Capture the shiny balls to get bonuses.
Played: 38853. Added: 20-09-2011, 11:42.. Categories:
Action
Snow Fairy game walkthrough: