Adam and Eve Go 2 game
Follow us on Facebook and Youtube: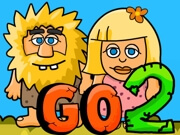 Description: Adam and Eve Go 2
Continuation of the game with the beloved heroes Adam and Eve. In this game, he again goes in search of his beloved Eve, who is waiting for him at the end of the level. There are 15 levels in the game "Adam and Eve Forward 2". But it is not so easy for Adam to reach the finish line and meet Eve there. On the way he has many obstacles and traps. He needs to solve sometimes difficult tasks like getting through the snake or where to find the key to open the doors. Explore the levels and find objects, collect pears and apples. You can also do not miss the roses. Collect them all and present to Eve when Adam finds her.
How to play:
Use the left and right arrow keys to move in the respective directions. The up and down keys will help you go down and upstairs.