Angela Twins Birth game
Follow us on Facebook and Youtube: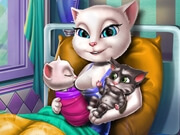 Description: Angela Twins Birth
The family of Tom Cat and Angela is expected to be replenished! Two beautiful kittens may be born very soon. And it looks like it will happen very soon. For any expectant mother, this is a very responsible and exciting period. She needs special help during this period. First you need to call an ambulance. While she is driving, you need to calm your mother cat. Give her a glass of water, call Tom the cat to kiss her and put on an oxygen mask when required. Then an ambulance will arrive and take Angela the cat to the hospital. As kittens are born, then your help is needed here. Take a towel and dry the face of the mom cat and kittens. Then you need to put diapers on the kittens, and then swaddle them. After that, all that remains is to give mom soothing pills and a glass of water. In this game it will be a great help during the birth of little twin kittens.
Use the hints in the game to get things right.