A Babysitter for the kids game
Follow us on Facebook and Youtube: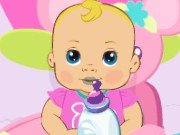 Description: A Babysitter for the kids
Welcome to the nursery for toddlers. Here you will find a restless kids, who need your care. Their nanny walked away for a while and asked you to replace her. Remember that kids always want to eat, sleep and play, in addition they still need to change diapers periodically, or they cry loud and long.
How to play online game for girls "A babysitter for the kids":
The game is very easy to control. Look at the cloud of desire, which will appear near the baby if he or her wants something, and move the child to the right place. To do this, click with the mouse on the kid and on the place where you want to move him or her.
Good luck!
Played: 55620. Added: 11-05-2011, 02:03.. Categories:
Caring