Spongebob And Patrick Babies game
Follow us on Facebook and Youtube: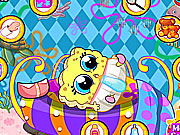 Description: Spongebob And Patrick Babies
A great game with Sponge Bob and Patrick. You are all familiar with these fun friends who are always together and love to have fun. In this game, they have become toddlers and now they need a great, patient nanny who will be able to give them a little time. Before you are not an easy task. You need to fulfill any whim of these fun kids. You'll feed, change diapers, play with them, and also to do massage for these beauties.
To play use the mouse and buttons on the edges of the game. Look at them and you will easily understand what each one does.
And don`t forget to play cool
Ever After High dress up
games at my site.