Sponge Bob Slammin Sluggers game
Follow us on Facebook and Youtube: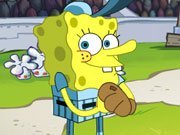 Description: Sponge Bob Slammin Sluggers
An exciting online game for girls. Play baseball with a sponge Bob and other cartoon characters.
How to Play:
To control the game use the mouse. Set the order of characters by clicking on each. If you play in defense, choose the ball, a normal or special, then set the force of the throw and effect by clicking the mouse. If you play in the offence, choose normal or special bat and set the strike power and precision.Use special bats and balls wisely. Special balls garantee strike, with special bat you will hit the ball. To reduce the accuracy of your stroke, the pitcher spits on the ball. Set a good precision, or use a special bat, otherwise you will get a strike.Have Fun, girls!
Played: 42840. Added: 23-07-2010, 11:29.. Categories:
SpongeBob