SpongeBob SquarePants anchovy assoult game
Follow us on Facebook and Youtube: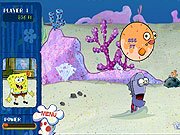 Description: SpongeBob SquarePants anchovy assoult
An exciting online game for girls. Help Sponge Bob and his friends to throw robots anchovies as far as possible. The game has two modes: free play and competition. You can choose one of three characters of the Sponge Bob cartoon to play.
How to play the game "SpongeBob SquarePants anchovy assoult": 
Build up your power, before the robot reaches your character. When the robot approaches, your character will hit him. While the robot anchovy flies, precision meter with running cursor appears on the screen. When the cursor is pointing to a green light, press the space bar, and your character will throw plate, Jellyfish, or krabsburger in anchovy.Girls, do not miss this fun game!
Played: 41508. Added: 29-11-2010, 10:52.. Categories:
SpongeBob