SpongeBob deep in the sea game
Follow us on Facebook and Youtube: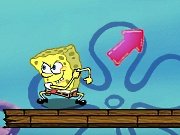 Description: SpongeBob deep in the sea
Sponge Bob Square Pants is funny resident of the underwater world, the main charachter of the same named cartoon. In our great online game for girls Sponge Bob got into an exciting adventure again. Running away from the evil Plankton, he fall into a deep hole which is very difficult to escape from. But fortunately there is a solution. There are floating planks which Sponge Bob can jump on. Help him to get out from the hole.
How to play:
The game is very easy to control. You will need only one mouse button . You have only one attempt to jump, so do not rush and just choose right direction of motion. To jump, just click the left mouse button.
Good luck with the game!
Played: 58671. Added: 5-07-2011, 10:38.. Categories:
SpongeBob