Sponge Bob Patty Panic game
Follow us on Facebook and Youtube: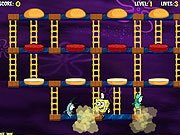 Description: Sponge Bob Patty Panic
Fun game "Sponge Bob Patty Panic": Amazing online game for girls. SpongeBob fell asleep and he dreams about the preparing of the largest and most delicious krabby patties in the world. He was so close to his dream coming true, but the cockroaches are making it so difficult.
How to play: Game control is carried out using the keyboard.  SpongeBob must go on the floors, climb stairs and step on the giant ingredients to prepare krabby patties, the motion is carried by arrow keys. Cockroaches are everywhere persecuting Sponge Bob, to neutralize them, you need to kick them by pressing the space bar.Enjoy the game, girls!
Played: 57861. Added: 30-11-2010, 13:37.. Categories:
SpongeBob