Mr Krabs makes cents game
Follow us on Facebook and Youtube: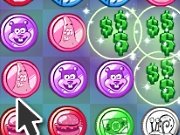 Description: Mr Krabs makes cents
Fans of the animated series about Sponge Bob know how much his boss, Mr. Krabs loves money. Each coin must be on its place. But the trouble is that SpongeBob has broken Mr. Krabs's moneybox and all of the coins have been scattered around the room. Help SpongeBob to collect coins and put them into the moneybox, before Mr. Krabs will burstwith anger.
How to play "Mr Krabs makes cents":
Here is a playing field with coins of different colors. You can move the rows of the coins both horizontally and vertically using your mouse. Your task is to remove the coins of the same color from the field. The more coins of the same color youmove the faster you pass levels.
Played: 53829. Added: 6-08-2011, 03:26.. Categories:
SpongeBob