Sponge Bob on the motorbike game
Follow us on Facebook and Youtube: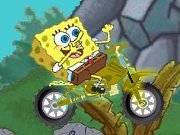 Description: Sponge Bob on the motorbike
Sponge Bob and you are going to a journey on the motorbike. You have to pass all the obstacles and pick all the hamburgers on you way as fast as you can. You have a lot of boats, rocks and also goodies. Collect them and hold the motorbike, watching it not to be fallen.
Controls:
use arrow keys to control the motorbike, and a "P" key to turn on the pause mode in the game. Don't hurry to drive ahead or you can fall down. Collect 100, 150 and 200 coins to unlock other cartoon heroes and play for them.
Played: 52146. Added: 18-02-2012, 16:24.. Categories:
SpongeBob