SpongeBob Battle with the balls game
Follow us on Facebook and Youtube: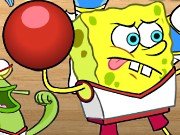 Description: SpongeBob Battle with the balls
Do you like team games? Then this great online game for girls is good for you. Grab your ball and defeat the enemy. Welcome to the super tournament of four teams.
How to play the game "Sponge Bob Battle with the balls":
Game is controlled with both the mouse and the keyboard. Game rules are very simple. You have to throw balls into the opponents. The team moves through the game field without your help, your task is only to avoid the opponents balls and hit the target. To throw the ball click the aim with your left mouse button, to make the team jump up, press spacebar. Please note that the balls are different and give different bonuses.
Good luck!
Played: 54252. Added: 24-03-2011, 02:37.. Categories:
SpongeBob