SpongeBob Jellyfish Shuffleboard Game game
Follow us on Facebook and Youtube: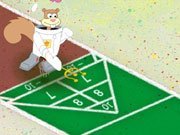 Description: SpongeBob Jellyfish Shuffleboard Game
Meet your favorite cartoon character Sponge Bob Square Pants in this funny online game «SpongeBob Jellyfish Shuffleboard». Girls, in the game you need to help Sponge Bob to move the jellyfish to the other side of the field.
How to play the game:
Use your mouse to adjust the force of your shot, use the left mouse button to drop the jellyfish to s a marker with the digits at the end field to score maximum points. Try to hit starfishes, which appear on the field during the game. Blue Starfish will multiply your score, the yellow starfish will give you additional moves, the white starfish adds bonus points, but beware the white star can throw to you -10 points. You can play this fun game for girls "SpongeBob Jellyfish Shuffleboard" alone, and with your friends in two player mode. Enjoy the game!
Played: 46755. Added: 13-07-2010, 17:25.. Categories:
SpongeBob