SpongeBob's Pizza Toss game
Follow us on Facebook and Youtube: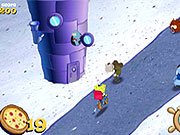 Description: SpongeBob's Pizza Toss
Fun online game for girls. Anyone who has ever been in Krusty Krabs knows that the residents of Bikini Bottom like to eat. This time they want pizza, and SpongeBob has to deliver it. You choose the time of the throw. Too early or too late dash means "bad" pizza, dissatisfied customers and very dissatisfied Mr. Crabs. In addition, you will lose points. Avoid obstacles and creatures living in Bikini Bottom.
This Pizza Toss game is controlled by the keyboard. Use the forward or back arrow keys to gas or brake and left and right arrow keys to bypass the obstacle. Use the space for a low throw and ctrl for upper floors. The game has bonuses: a Sponge Bob's hat makes him super fast and temporarily invincible, watches give extra time and a box of pizza gives 5 extra portions for the throw.
Played: 54900. Added: 30-11-2010, 12:35.. Categories:
SpongeBob