Friend Or Foe Trash Bash game
Follow us on Facebook and Youtube: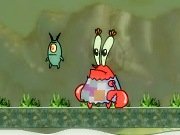 Description: Friend Or Foe Trash Bash
In our great online game for girls Krusty Krabs, Sponge Bob's chief again got into an adventure. He banished the annoying plankton and lost a new recipe Krabby patties in a deep dust-hole. He had to go down there to find the recipe. But it is not so easy, because a lot of dump fills the hole. If the Krusty Krabs won't get out from dump-hole before the time runs out, big problems will wait for him.
How to play the game "Krusty Krabs and the lost recipe":
Your task is to get out of the dump-hole, climbing up the platforms and collecting the fragments of a lost recipe. Move through the game field using the arrow keys, split platforms using the up arrow key. Press the spacebar to throw the plankton. With it, you can collect pieces of the recipe and save your time.
Good luck with the game!
Played: 55386. Added: 20-05-2011, 22:36.. Categories:
SpongeBob