SpongeBob delivery dilemma game
Follow us on Facebook and Youtube: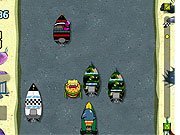 Description: SpongeBob delivery dilemma
In this fun game for girls, SpongeBob is engaged in delivery of ingredients to the Krusty Crabs. Help him to get to the Krusty Crabs as fast as possible. Watch out the plankton minions, they are trying to shoot down Sponge Bob off the road.
How to play the game: 
Game is controlled by the arrow-keys: forward - gas, back - brake, left and right arrows - turns. Press the space bar for special attacks to shoot down the plankton machine off the road. Some plankton minions keep bonuses, you need to hit such plankton minion to get them. Bonuses can give you extra time, weapons, and increase your speed. Girls, be careful on the road. Enjoy the game!
Played: 48690. Added: 17-11-2010, 01:33.. Categories:
SpongeBob