Christmas in Bikini Bottom game
Follow us on Facebook and Youtube: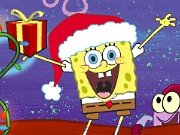 Description: Christmas in Bikini Bottom
Christmas is a very important holiday In Bikini Bottom. Every resident of the city is waiting for gifts from Santa Claus. But the evil Plankton has decided to ruin Christmas by stealing all the presents and putting them in a huge bag. Sponge Bob has decided to return joy in Bikini Bottom and plankton teach, help him.
How to play "Christmas in Bikini Bottom":
To control the game you need a mouse. Throw gifts in anchovies that are trying to climb a bag with gifts and stop the Sponge Bob. Move the mouse to aim and press the left mouse button to throw the gift in the anchovy. Pay attention to the blue star, it brings extra points.