Game SpongeBob Ship O Ghouls game
Follow us on Facebook and Youtube: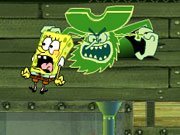 Description: Game SpongeBob Ship O Ghouls
SpongeBob is imprisoned in a terrible Flying Dutchman, which floats to the surface. If the ship will see the light, our unfortunate hero will dry out, very frightening outcome. Girls, help sponge Bob to get out, but beware of the horrific inhabitants of Flying Dutchman, and be as fast as you can.
How to play the fun game "Game SpongeBob Ship O Ghouls": 
Use the left and right arrow-keys to move, press the down arrow-key many times to make SpongeBob slip into the tube. press the left and right arrow-keys alternately and SpongeBob will escape from the trap. The game has bonuses that will help you. In this fun girl game you can use the cochlea pressing the spacebar, and SpongeBob will be able to squeeze into narrow openings. Jack-o-lanterns will disguise Sponge Bob from enemies and, finally, the Krabby patties will boost your score.Girls, do not miss this exciting online game! Good luck!
Played: 57906. Added: 23-07-2010, 11:21.. Categories:
SpongeBob