SpongeBob Frosty Fling game
Follow us on Facebook and Youtube: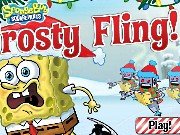 Description: SpongeBob Frosty Fling
Winter, cold air, snow and freshness that could be better? Excellent time to go for a walk and practice in skating. SpongeBob also decided to do figure skating and went to the skating rink. But there he is expected by the evil robots of plankton, they want to catch SpongeBob. Help sponge Bob to escape from robots and the evil plankton.
How to play online game for girls "Sponge Bob Ice Race":
Browse through the ice as quickly as possible to run away from plankton robots. If anchovy catches you, it will help you, pushing you with great speed, you just have to watch the direction. To choose the direction, use the right and left arrow keys, to let go the anchovies press the space bar.
Good luck!
Played: 59049. Added: 24-03-2011, 02:50.. Categories:
SpongeBob