Sponge Bob Boo or Boom game
Follow us on Facebook and Youtube: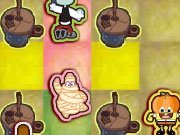 Description: Sponge Bob Boo or Boom
Fun online Halloween game for girls. Choose one of the four characters in the game and place the bombs to blow up the plank-o-lantern and earn points.
How to play:
Choose one of the Sponge Bob cartoon character and blow up plankton, not the houses on the field.Move your character with the arrow keys. To set the bomb, press the space bar. When plankt-o-lantern explode, you will find a bonus under it. When all the plankton will explode the goal of the game will change. Each time when the bomb explodes, the tiles on the field will turn into your color. The more tiles have your color, the more you earn points. If you paint all the tiles around the house in your color, then you will earn extra points. Have fun, girls!
Played: 48681. Added: 23-07-2010, 12:01.. Categories:
SpongeBob