Rapunzel Baby Birth game
Follow us on Facebook and Youtube: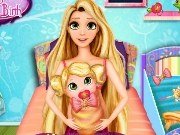 Description: Rapunzel Baby Birth
Rapunzel is about to become a happy mother and she needs to come to the doctor. Help her to collect all the right things and go to the hospital. In the hospital, you will also be able to help her and the doctor measured the pressure of the girl and make an analgesic injection.
How to play:
in this unusual game you will be able to help Rapunzel give birth to a child! First, gather all the things that will need the Princess and her baby in the hospital. Then go together with the future mother to the doctor. There you will need to do a number of procedures. Follow the prompts and use your mouse to Happy Rapunzel was grateful for the work done. I you like Rapunzel, then try another cool
Rapunzel hairdresser game
.