Rapunzels Magic hair game
Follow us on Facebook and Youtube: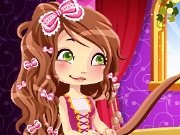 Description: Rapunzels Magic hair
Many of the girls know and love the beautiful story of princess Rapunzel and her luxurious hair. Magic always dominates in fairy tales. So Rapunzel needs fairy hairstyle. Create a haircut, hang down the hair from the tower and see who comes to Rapunzel. Everyone wants to see a prince.
How to play the game "Rapunzel's Magic hair ":
Using your mouse click to select haircolor, styling tools and accessories in this Rapunzel haircut game. As soon as you select tools, fairy will wave her magic wand and a miracle would happen. One of the fantastic creatures will climb the tower. This may be a prince. Play more, to learn new fabulous fairytale creatures.
Rapunzels Magic hair game walkthrough: