Crazy Fantasy Hair Salon game
Follow us on Facebook and Youtube: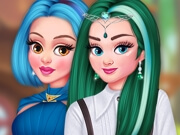 Description: Crazy Fantasy Hair Salon
Cool game for fans of fantasy style. In this game, you will meet four princesses who have come to a beauty salon in the forest. Here, any visitor can create a fantasy outfit and hairstyle and he will look like a fairy, elf, sorcerer, or forest warrior.
How to play:
In this game you work in a fantasy beauty salon. On this day, four princesses came to you who want to update their wardrobe and freshen up their hair. They need to wash their hair, clean their hair from bugs, choose a new hairstyle. Then you can do makeup and choose the color of the eyebrows, lipstick. But that is not all. Choose hair jewelry, outfit, and items that our crazy fantasy look would not be complete without.