My Beach Nails Design game
Follow us on Facebook and Youtube: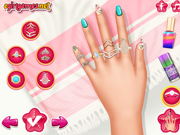 Description: My Beach Nails Design
In the heat, many have a desire to go to the beach and stay near the water. Our princesses Ariel, Jasmine, and Rapunzel also decided to relax together on the beach by the water. To do this, they need to take care of the outfit, hairstyle, and manicure for nails. Let's see what outfits they have in the wardrobe and choose something suitable for them. In addition to nail design, you can choose beautiful rings and bracelets for each of the princesses. At the end of the game, you will see the result of your choice, as well as evaluate how your design fits each of the princesses.