Honey and the bee game
Follow us on Facebook and Youtube: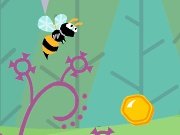 Description: Honey and the bee
Honey is a delicious and healthy product. In order to take care of your health, incredible amount of bees work very hard to create honey. The bees are very industrious, they are never lazy and do not shirk, even though their work is so hard. Play this online game for girls, and help a bee to find honeycombs. It is not so easy. Bee has to beware of evil enemies, thorny plants and water, all of which can severely interfere with it.
How to play:
Move your mouse to set the direction of the bee. To destroy the enemy, just sting it. To do this just fly a little closer and click the left mouse button. Find all the honeycombs around the playing field and get rid of all the enemies to get to the next level.
Played: 37197. Added: 20-12-2011, 06:27.. Categories:
Action