Zumba Mania game
Follow us on Facebook and Youtube: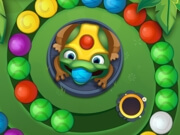 Description: Zumba Mania
The game "Zumba Mania" is very similar to the previously known game "Zuma". You've probably heard about it and maybe even played. The meaning of the game is very simple. In the center of the game is a toad that can shoot balls of different colors. Moreover, the balls fly out of her mouth. And she needs to shoot at the snake of colored balls that crawl past her. The main task of the toad is to make three or more balls in a row so that they disappear from the field. After all, if this is not done, then the little train of balls will easily reach the end of the path and the game will be lost.
The controls in the game
are pretty simple. Use the mouse or your finger to make the toad shoot a ball into a chain of balls, making sequences of balls of the same color. If you get three balls of the same color, then they will explode and disappear. If you have nowhere to insert the current ball, you can shoot it past the chain.