Arrows of Cupid game
Follow us on Facebook and Youtube: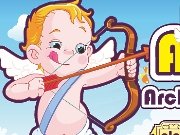 Description: Arrows of Cupid
Cupid is a God of love. To cope with his responsibilities all over the world he has an army of servants. Sometimes happens that arrows of small angels do not always get where they are needed. Therefore, this little angel needs to practice his shooting accuracy. You will be able to help him in this wonderful online game for girls.
How to play the game "Arrows of Cupid":
Play with your mouse. Your task is to shoot the moving target with an arrow. In order to aim, move the mouse up and down and the Cupid will move his arch. Press and hold the left mouse button to adjust the force of impact and fire.
Played: 41292. Added: 11-10-2011, 03:49.. Categories:
Action