Cat in the maze game
Follow us on Facebook and Youtube: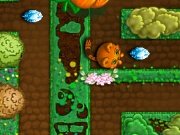 Description: Cat in the maze
This cute cat is locked in a maze. He played with butterflies so enthusiastically that got lost and did not know how to get out. No one wants to help him. Maybe it'll be you?
How to play:
This cat Sissy wants to get out of the maze. To get out he must collect all the emeralds, and only then the key will appear. Then you need to go around the maze once again and find the key. It is the only way you can find an exit of the maze.
Played: 37116. Added: 9-05-2012, 09:45.. Categories:
Action