High tide game
Follow us on Facebook and Youtube: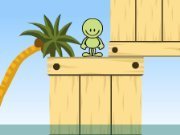 Description: High tide
Adventure for the ability to push the keys quickly. You should stay as high as possible not to drown as when the water is constantly rising.
How to play a "High Tide" action game: When this fun girl game is loaded push "play" and start playing. Keys standard: Left Arrow - move left right arrow - move right up arrow - jump. * Noticed trick: going to the right wall can appear on the left and vice versa. This can be useful in the game.Stay above the rising water!
Played: 41922. Added: 29-05-2010, 22:41.. Categories:
Action
High tide game walkthrough: