Thief in the gallery game
Follow us on Facebook and Youtube: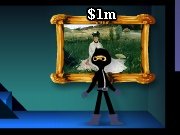 Description: Thief in the gallery
The main character of our funny online games for girls loves to collect art masterpieces. But most of them he just can't afford. So he decided to steal the most expensive and the most beautiful paintings from the gallery.
How to play the game "Thief in the gallery":
Walk through the gallery, collecting paintings and giving them to accomplice through the window. To move use the arrow keys. Press the up arrow to take a picture, then press up arrow again to give the paintingto the accomplice. Try not to be caught by the security andsurveillance cameras. You can pretend to be a sculpture if you do not have a painting in your hands, or hide behind a painting.
Good luck with the game!
Played: 46269. Added: 19-08-2011, 02:44.. Categories:
Action