Eloped house game
Follow us on Facebook and Youtube: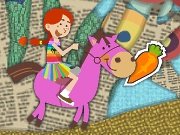 Description: Eloped house
Surprisingly, but your house ran away from you in the morning. Don't worry, it is not a big deal. You have your fast pony which can run fast and jump high over holes and obstacles. It also likes carrot.
How to play:
Get together and jump on your pony. Push the right button to run and the spacebar to jump over the stump, the stone or .the hole. You can go back to pick up something that you have forgotten.
You can pick up things on your way. They are put into your inventory. Click with the mouse on the panel on the bottom right to use them. You can choose another color of the pony, other dress or hairstyle for yourself.
Played: 42309. Added: 19-04-2012, 18:21.. Categories:
Action