My dolphin show 7 game
Follow us on Facebook and Youtube: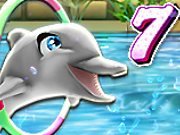 Description: My dolphin show 7
The seventh version of the game about a Dolphin, which acts in the Dolphinarium. In this game you are waiting for new levels and positive sea. I have this game can go over and over again and I did not bother. And most importantly, that I can go through it by earning more stars and buy a mermaid!
How to play:
in this game you work as a coach smart and beautiful Dolphin. You can help him to learn different tricks and learn new skills performing. The game offers 18 levels and the ability to buy decorations for Dolphin. In addition, once you've collected enough coins, you can buy a mermaid and to speak with her on the show!
My dolphin show 7 game walkthrough: