Prepare the puppy for the show game
Follow us on Facebook and Youtube: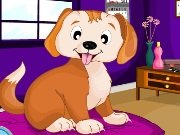 Description: Prepare the puppy for the show
Every weekend you go for a walk in the park with your puppy. But today is a special day! The dog show is being arranged in the park! And you have a great idea! What if your puppy will take part in the exhibition and win a medal? For this it is necessary to bring your puppy up. First you need to brush it's teeth. Then wash and cut it's nails. It now remains to look after it's claws and choose an outfit for your puppy. What do you think? Will such a beautiful dog be rewarded with a medal?
Control the game only with the mouse. Follow the prompts in the game and perform all that is required from you.
Played: 37161. Added: 16-10-2014, 22:25.
Play other games from this developer:
143kidsgames.com
. Categories:
Animal