Dr Panda Daycare game
Follow us on Facebook and Youtube: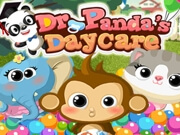 Description: Dr Panda Daycare
Welcome to Dr. Panda's kindergarten for animals. Animals bring their children here so that they are under the supervision of an experienced teacher all day and at the same time do not get bored. Here you will meet cubs of an elephant, monkey, cow, cat and even a polar bear. Your task is to help Doctor Panda look after them. After all, they are so fidgety and easily run around the room in all directions. You can give them a hoop to play, put them on a skateboard, turn on music and give them many more toys so that the children will not get bored. Alternatively, you can feed them. Sit down all the baby animals at the table and treat them with delicious treats. This is a very cute and pleasant game where not only children in kindergarten have a rest, but you yourself.
The controls in the game are very simple and straightforward. Drag items to any position in the room. It's also easy to move all the kids anywhere in the room and keep them busy.