Cheese path game
Follow us on Facebook and Youtube: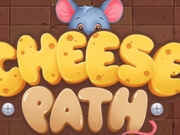 Description: Cheese path
This is a cheese puzzle game with a mouse who is very fond of cheese. But as you know, nothing is given without difficulty. So in this game, the mouse, in order to get a piece of cheese, has to think about how to get to it. But it's good that you are there, and you can help the mouse get it. The game has 25 levels that differ in difficulty. The simplest levels start at the beginning. In them, just one click of the mouse is enough for the cheese to roll to her mouth. Then the levels start to get more complicated. Your task is to tilt the shelves under the cheese so that it rolls straight towards the mouse. Use nails to set up the supports.
In-game controls: this html5 game can be played on both computer and smartphone. On a computer, you only need a mouse, and on a smartphone, you can use touch controls.