Baby Hazel Kitchen Time game
Follow us on Facebook and Youtube: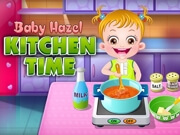 Description: Baby Hazel Kitchen Time
Baby Hazel is in the kitchen today for the chef. She has long wanted to surprise her mom and cook delicious food before she comes home from work. Although she is a little girl, she can easily go to the store to buy the necessary products and items for this. In this game, we can help her go to the store and bring all the groceries home. After all, she is still a little girl and is not able to carry heavy bags! At the beginning of the game, we will go to the store, and the girl will tell us what now we need to look on the shelves. If this product is not in this department of the store, then you need to go to another department. There are a lot of tips in the game that will help you find all the products you need in the store. Then go home with Hazel and start making applesauce soup.